Matt Ederer – (12-2 last week, 67-38-1 overall) For posterity's sake, we're both 0-1 on the week, after incorrectly selecting Carolina to beat the SORRY, NO ACCOUNT (copyright: Mike Wilbon) Atlanta Falcons on Thursday. Which they did not. Chalk up two L's there. The honour system works both ways.
F-Dawg Johnston (10-4 last week, 75-30-1 overall) – Avid Browns fan? Mr. Magoo fanatic.
Sunday, Nov 1 2020
1:00pm EST
Minnesota (1-5, 15th in NFC) @ Green Bay (5-1, 1st in NFC)
Line: GB -7
Matt: Minnesota is officially packing it in for the season, after trading away DE Yannick Ngakoue and shutting down DE Danielle Hunter for the rest of the season. Aaron Rodgers will chunk on this schmo Minnesota team.
Matt's Pick: Green Bay
Fleet: Ex-Browns Coaching Tree Battle of the Week! Or: six degrees of Browns-eperation
I still cannot believe I missed week 6.
For Minnesota we have Andre "3 Patts" Patterson former Browns defensive line coach (2003 – 2004) and current Vikings co-defensive coordinator and defensive line coach. For the Packers we have Mike "the Hitman" Pettine current defensive coordinator and former Browns head coach (2013 -2014).
I have to go with my boy The Hitman here. Who could forget "the hitman"/Manziel era in Cleveland? I certainly never will.
Fleet's Pick: Green Bay
Tennessee (5-1, 3rd in AFC) @ Cincinnati (1-5-1, 13th in AFC)
Line: TEN -7.5
Fleet: Taking into account the Steelers game was their third in 12 days, the Titans looked good. After an actual week off, and the team being slightly less riddled with COVID, they should beat this Bengal team.
Fleet's Pick: Tennessee
Matt: Per Gregg Rosenthal on NFL.com, Cincinnati is 1-12-1 in one-score games under HC Zac Taylor. I don't expect much to change this week. Titans win, Cincy covers the 7.5 point spread.
Matt's Pick: Tennessee
NY Jets (0-7, 16th in AFC, 32nd in NFL) @ Kansas City (6-1, 2nd in AFC)
Line: KC -20.5
Matt: lmao
Matt's Pick: Kansas City
Fleet: Instead of dumping on the Jets and ripping the Gase-ular one a…new one, as I am known to do. I will be sharing a recipe from the region of Kansas! Enjoy!
Fleet's Pick: Kansas City
Indianapolis (4-2, 7th in AFC) @ Detroit (3-3, 10th in NFC)
Line: IND -3
Fleet: Looking at the Lions record and schedule, I see some parallels to the Browns. Mainly, wins against bad teams. If the Lions want to be a playoff team, they will need to win these types of games. Which is why I will be selecting the Colts.
Fleet's Pick: Indianapolis
Matt: Tough game to call, probably the 2nd hardest of the week (it's either this or the next game). I like Indianapolis here coming off the bye, as Frank Reich is far superior to Matt Patricia anyway. Having two weeks to prepare for old #2 Pencil Patricia is almost unfair. Colts to win and cover.
Matt's Pick: Indianapolis
Pittsburgh (6-0, 1st in AFC) @ Baltimore (5-1, 5th in AFC)
Line: BAL -4
Matt: If Baltimore is going to win this game, they're going to have to take the top off the defense. I like Hollywood Brown to have 100+ and a Taye Diggs here this evening. Baltimore wins a close one to re-establish their dominance in the AFC.
Matt's Pick: Baltimore
Fleet: Hard game to pick, should be entertaining regardless of score. I think my rationale here is I don't like Ben Roethlisberger.
Fleet's Pick: Baltimore
LA Rams (5-2, 7th in NFC) @ Miami (3-3, 8th in AFC)
Line: LAR -4.5
Fleet: Probably a bad idea to pick the team starting the rookie in his first ever start. It's also probably been a bad idea to cheer for the Browns all these years. So who is truly laughing here, me or Jared Goff?
Fleet's Pick: Miami
Matt:
Hook it to my veins.
Matt's Pick: Miami
New England (2-4, 12th in AFC) @ Buffalo (5-2, 4th in AFC)
Line: BUF -5.5
Matt: This is officially the last week that I will believe in the New England Patriots. With their backs against the wall, and with intense winds blowing in Buffalo, I think the Patriots control the clock and win a stinky, gross defensive battle.
Having said all of that, Stephon Gilmore is out, so Josh Allen may very well throw for 500 yards and Buffalo could win by 20+. Still, I like the Pats in a game that could be Cam's last stand if he fucks up. Gross weather offsets the loss of Gilmore and the Pats win it.
Matt's Pick: New England
Fleet: I wanted to pick the Patriots, but didn't. Now it's just up to Josh Allen and the Bills to prove me wrong.
Fleet's Pick: Buffalo
Las Vegas (3-3, 9th in AFC) @ Cleveland (5-2, 6th in AFC)
Line: CLE -2.5
Fleet: Boop boop Browns time! They are finally going against a team that is in the same playoff-ish tier, and not a class above at the moment (a la Ravens, Steelers). At least I hope the da-Raid-ahs are not a class above my Browns.
Fleet's Pick: Cleveland
Matt: This could be a wild game. A hoedown in the dog pound, if you will. (You probably won't). Las Voakland are surrendering the 2nd most points in the league at 32.8 per game, and while their offense is potent, they're "only" at 11th in PPG, scoring 28.5 per contest. Ironically, I think 32-28 sounds pretty close to the final score in this game. The loss of OBJ won't hurt Cleveland too badly, because Baker Mayfield (perhaps inexplicably) actually plays better without him.
Cleveland wins a barn burner on the strength of a late touchdown.
Matt's Pick: Cleveland
4:05pm EST
LA Chargers (2-4, 10th in AFC) @ Denver (2-4, 11th in AFC)
Line: LAC -3.5
Matt:
Matt's Pick: Denver
Fleet: Herbert v Lock in the B-tier Young QB Ideal Mouse Trap Bowl. Denver is a weird team this year, it's hard to like them. It feels like Herbert is due for a stinker rookie game soon, although he might just be good at football. Who's to say? Definitely not me.
Fleet's Pick: LA Chargers
4:25pm EST
New Orleans (4-2, 8th in NFC) @ Chicago (5-2, 5th in NFC)
Line: NO -4.5
Fleet: I keep picking the Saints. I don't think the Saints are a serious Super Bowl contender though.
Fleet's Pick: New Orleans
Matt: The rare get-right game for a defense, rather than an offense. New Orleans' defense should feast on the hapless Bears attack. I feel like Chicago is going to start descending back to earth a little bit here.
Matt's Pick: New Orleans
San Francisco (4-3, 9th in NFC) @ Seattle (5-1, 2nd in NFC)
Line: SEA -3
Matt: Seattle will be fine long-term, but I think this two-week stretch is their bump in the road this year. They aren't the best team in the NFC, and I think something like 12-4 or 11-5 is clearly more realistic than them going 15-1. San Fran is a seriously underrated team, one of two (along with TB) who rank top 8 in both Offensive and Defensive DVOA. Give me the 9ers to upset the Seahawks.
Matt's Pick: San Francisco
Fleet: Darn this feisty 49ers team. Full of feist and making picks hard. Russ and the Hawks bounce back against the feist this week.
Fleet's Pick: Seattle
8:20pm EST
Dallas (2-5, 13th in NFC) @ Philadelphia (2-4-1, 4th in NFC lol)
Line: PHI -11.5
Fleet: Eagles will get a bunch of players back this week apparently, so that should help. Also the other team's defensive coordinator lives in a world where his hands remain in a constant state of tabasco.
Fleet's Pick: Philadelphia
Matt:
In this example, Dennis is Jerry Jones.
Matt's Pick: Philadelphia
Monday, Nov 2 2020
8:15pm
Tampa Bay (5-2, 3rd in NFC) @ NY Giants (1-6, 16th in NFC)
Line: TB -13
Matt: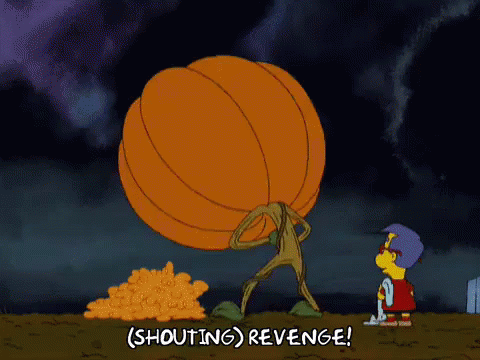 Matt's Pick: Tampa Bay
Fleet: Tom Brady gets his revenge, about 8-13 years and 4 head coaches too late.
Fleet's Pick: Tampa Bay